Abortion as Genocidal Sexism and Racism
Certain terms in our politically correct age are so toxic that they can be used only in carefully pre-ordained contexts and never must any hint of opposition be expressed.
Two of the most poisonous are racism and sexism, and each of these words carries its own special interpretation. Under no circumstances must you convey the slightest support of either concept in any way whatsoever; you may not even evince an ever so slightly nuanced interpretation that might differ from the official script.
The racism script says that - regardless of justification - a white must never express anything negative about a non-white, nor take any action which might be seen to have the potential to disadvantage a non-white vs a white. Of course the reverse does not apply. Non-whites can disparage whites all they want - like the US Supreme Court's newest judge Sonia Sotomeyer, a Latina - and nobody bats an eye as it is "impossible" for a non-white person to be racist. (Forget that throughout Africa and Asia the shade of your skin is the single greatest determinant of your status as perceived by others - the less dark the better.)
With sexism the story is similar. Only men, that is, white men, can be sexists, and they must never say anything remotely negative about women nor disadvantage them in any respect.
| | |
| --- | --- |
| | The one exception is certain types of women who refuse to see themselves as part of an oppressed minority, such as Margaret Thatcher, Sarah Palin, Anne Coulter, and are therefore viewed by other women as virtual men, to be freely belittled. (Only last week Ms Coulter was harassed by university authorities and students in Canada and prevented from making a speech, because she has a reputation for being robust.) |
| | Black men and Muslim men, apparently due to their rich exotic culture that we whites don't appreciate, have special dispensation to oppress women all they like, whether through language ("bitch", "ho"), control (burqa, arranged marriage) or mediaeval punishments (stoning for adultery). |
The defining issue in the nexus of sexism and racism is abortion. If you oppose abortion you are most certainly sexist because you are denying women rights over their own body, and most probably racist as well because more non-whites than whites seek abortions. US Democratic Senator Dianne Feinstein of California succinctly expresses the politically correct attitude: "Is [abortion] morally correct? Yes, I believe it is morally right ... to use tax dollars from pro-life Americans to cover insurance plans that cover abortion." Abortion is so morally right that taxes should pay for it (a view that will have delighted the American president).
Yet if there is one issue which almost oppresses and kills more females and non-whites than any other it is that self-same abortion. Consider ...
Anti-Female Sexism
In the past I have written about the unintended consequence of China's one-child policy, introduced in 1979 by Mao's tyrannical successor Deng Xiaoping: if you are allowed only one child and you are Chinese, that child has to be a boy. Only a boy will carry on your name and only a boy can be relied upon to take care of you in your old age, since daughters will have to care for their in-laws. Thus female foetuses and live baby daughters in China have been killed in and out of the womb in their tens of millions, to the extent that by 2020 China will have 24 million excess males of marriageable age. This translates to 24 million (or more) girls killed in order to achieve this imbalance, the great majority apparently aborted. If selective slaughter of female infants is not sexist I can't think what is.
But it doesn't stop in China. As a recent Economist cover story explained, selective killing of daughters has become common practice in India, Taiwan, Singapore, South Korea, the Balkans, the Caucasus and elsewhere, a result of smaller families and easier abortion. The total death toll of this deliberate "gendercide" is estimated at over one hundred million. Without abortion, it would be nowhere near this figure.
So a "woman's right to choose" an abortion turns out in practice to be "a woman's right to choose" the elimination of women. The sexism is profound.
Anti-Black Racism
In the US, abortions are carried out overwhelmingly on the poorer people in society, and these are overwhelmingly black. Indeed, there has long been a preponderance of abortion clinics deliberately located in rundown black neighbourhoods.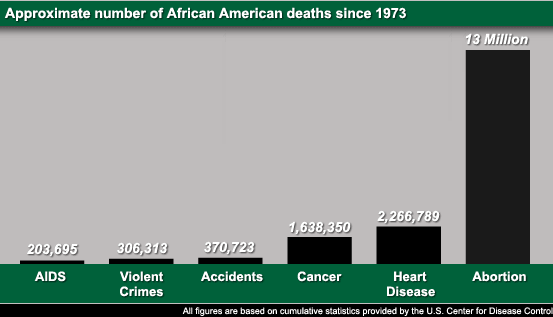 The American population includes six whites for every black. Yet for every white abortion there are five black abortions, which adds up to over 400,000 per year, being 37% of all American abortions . This is what lies behind the astonishing observation that "abortion kills more black Americans than the seven leading causes of death combined". Five of the lesser causes appear in the chart - AIDS, Violent Crime, Accidents, Cancer, Heart Disease; the time period covered is 1973 (the year of Roe vs Wade, which legalised abortion) to 2008.
Such statistics are the justification of the provocative billboard below, the source of much irritation on the part of the pro-choice lobby -
and this one
and this
There is a black genocide going on, and that is something that is as racist as you can get. As Dr Johnny Hunter, a leading black anti-abortion campaigner bitterly remarks,
"The civil rights activists did not fight to make lynching 'safe, legal, and rare' [Bill Clinton on abortion] ... This womb-lynching has caused more African American deaths than the Klan achieved in over 144 years."
Yet the abortion industry and those who defend it would be the last to consider themselves racist lynchers who far exceed (by a factor in the tens of thousands) even the dizzy standards set by the Ku Klux Klan.
Anti-Female Anti-Black Genocide
Forget for a moment about the intrinsic (im)morality of an individual abortion.
Large-scale availability of abortion has turned out to be both sexist and racist in the extreme, and this is nothing at all to do with white males.
Any proponent of abortion is, ultimately, promoting the genocide
| | |
| --- | --- |
| | globally of females and |
| | in America of blacks. |
That's what Adolf Hitler tried to achieve against Jews, gypsies and the disabled. It's about as wicked as you can get.
While we're on racism, it's enough to make you want to join the British National Party, if only to spite Britain's Orwellian "Commission for Equality and Human Rights" and its hare-brained accomplices in the judiciary.
The Commission had the BNP prosecuted for alleged racism in its constitution, specifically its exclusion of minorities from membership. The BNP was found guilty and told it could not recruit new members until its constitution had been de-racialised by making membership open to all, a process that took several months. As intended, the moratorium on lucrative new memberships was a serious blow to its efforts to fight Britain's coming general election; nevertheless the BNP re-wrote a new constitution, ratified it via an EGM and presented it to the court for approval.
Still not good enough, because it requires new members to subscribe to the BNP's principles, two of which state:
| | |
| --- | --- |
| | Clause 3.2.1: "We are pledged to the continued creation, fostering, maintenance and existence of a unity and of the integrity of the Indigenous British." |
| | Clause 3.2.3: "We are pledged to stemming and reversing the immigration and migration of peoples into our British Homeland that has, without the express consent of the Indigenous British, taken place since 1948, and to the restoring and maintaining, by legal changes, negotiation and consent, the Indigenous British as the overwhelming majority in the make up of the population of and expression of culture in each part of our British Homeland." |
So although anyone, including minorities, can now join the BNP, the judge ruled that it is in effect "racist" to expect minorities to accept these clauses. So the ludicrous outcome is that the BNP have now made another constitutional change that no longer requires would-be new member to accept the clauses. In other words you join a club whose central rules and philosophy you are specifically not required to observe - surely Groucho Marx would have had something to say about that. This curious contortion has however allowed the membership moratorium to be lifted.
So to summarise, to declare that you want to stem and reverse immigration and to legally restore through negotiation and consent an indigenous majority in your own country is now in today's Britain a racist aspiration and therefore unacceptable, indeed illegal. I wonder how a prohibition to promote your own people and culture would go down in, say Japan, Korea, Russia, Saudi Arabia. According to the judge's ruling, no-one in Britain has any further right to his/her own country: it belongs to whoever manages legally or otherwise to waltz in through the ever-porous borders and claim it.
Meantime, following from - and doubtless the result of - its travails with the human rights commission and associated publicity, the BNP has been enjoying a stampede of new members and their subscriptions.
Then there is the £10 T-shirt with a quotation deemed so "offensive" (read: racist) that its wearer, Reg Bates who is a parliamentary candidate no less, was excluded from a course run by the UK's National Health Service.
The words constitute Article 51 of the Magna Carta, the founding document of the jurisprudence of the entire Anglophone world, from New Zealand to Singapore to India to Britain to North America. Nevertheless, the state-run NHS by its action has ruled that the heretofore much denigrated Bad King John (1167-1216 AD), whom we now must recognize to have been exquisitely multi-cultural and politically correct in his demand for continued regal hegemony, should never have agreed to sign the perverted document that those racist indigenous British aristocrats pushed in front of him way back in 1215.
Interestingly, it's not considered in the least bit racist when white women, seeking egg-donations (or purchases) for implantation, routinely screen the donors to check they are of the desired race, upbringing and education (white, middle-class, graduate, good-looking). Surely this invidious practice, like the BNP's racist constitution, also deserves to catch the malign eye of the human rights commission.
But, as has happened with the BNP, it would likely only increase interest the, er, donations.
It is always interesting to watch the debate flow and ebb about the desire in Ireland for reunification with Northern Ireland. Until the Good Friday Agreement of 1998, it was a Constitutional imperative - the South claimed sovereignty over the North. That was dropped via a referendum, to be replaced after the GFA by a new Article 3.1:
"a united Ireland shall be brought about only by peaceful means with the consent of a majority of the people, democratically expressed, in both jurisdictions in the island."
I remember how the ratification of the GFA was greeted with much euphoria and talk about brotherly love between the people of both jurisdictions. In the South, discourse was dominated by a belief that what was good for Northern Ireland was ipso facto good for all of Ireland.
In a poll conducted last January for Slugger O'Toole, a clear majority (55%) of Irish adults agreed that
"on balance it would be better for people on both sides of the border if there was a United Ireland".
So much for the rhetoric. What of the reality?
This was recently revealed by two words: Shannon and shopping.
Shannon
The first dose of reality came in 2007 when Aer Lingus decided for economic reasons to relocate a few Heathrow flights from Shannon to Belfast. Strikes, demonstrations and disruption immediately ensued, as people from the Shannon area and indeed the rest of the country protested the loss of jobs, of easy access to London and of prestige. Columnists ranted, letters splattered across newspapers, TV debates wailed in despair. This was a grievous affront on the integrity and honour of of the nation, and the Government must intervene to prevent it from coming to pass.
No-one was rejoicing that our poor downtrodden brothers in supposedly decrepit Northern Ireland would get a leg-up when those jobs, access and prestige popped up in lower-cost Belfast. Aer Lingus went ahead with the move despite the protests, and ever since has been contributing a bit more to the North's GDP.
Northern Ireland would instantly implode were it not for the massive subvention of £6-7 billion it has long received every year from the British Exchequer. (Though snce Wales and Scotland also get handouts it means only England actually pays for them - all of them, like Daddy handing out pocket money.) Surely any measure, such as the arrival of Aer Lingus, that
| | |
| --- | --- |
| | improves the province's economy, |
| | makes its people better able to stand on their own two feet and |
| | helps them wean themselves from suckling quite so hard on the English taxpayers' well-worn nipple |
should be welcomed by anyone who proclaims concern about the Northerners' overall wellbeing, dignity and, well, adulthood.
Shopping
Not long after, the world economies came to grief. Different countries took different counter-measures, but Gordon Brown, Britain's Prime Mentalist (as Guido Fawkes likes to call him), decided to emulate Robert Mugabe by wrecking the currency though printing more of it. But instead of calling it Mugabeconomics, he invented an equally ugly term, quantitative easing, to achieve a similar result. It took only a year for some 25% of the wealth and income of every man, woman and child to be effectively confiscated when sterling dropped by this amount against the other major currencies.
| | |
| --- | --- |
| | From 2005 though September 2007, the pound was worth around €1.47 (shown on the graph as 68p per €) |
| | By November 2009 it would only get you €1.11 (90p/€), a dramatically reduced level at which it has more or less remained ever since. |
The drop from €1.47 to €1.11 represents the 25% devaluation mentioned
Oh, sure, in the short term dramatic devaluation boosts exports and saves some jobs. But it's an illusory benefit because it also puts up the price of imports, and domestic goods which compete with imports, and pretty much everything else in a globalised world. This is inflation unleashed, and the 25% confiscation of wealth is manifested to ordinary people in terms of their deiminshed buying power and wealth, hence reduced consumption, hence jobs destroyed. Higher inflation is now working its insidious way into the British economy.
In Ireland, however, the collapse of sterling created a bonanza for anyone who drove across the border to the sterling area of Northern Ireland to shop using their newly enhanced €uros. So across the people drove, in hordes, including thousands of civil servants on strike over pay cuts. These migrant bargain-hunters clogged the roads and shopping malls of Newry and other border towns. To the latters' surprise, they experienced a welcome boom when the rest of the UK and Ireland were suffering from deep recession.
Did the richer people of the South welcome the unexpected injection of wealth into the struggling Northern economy, one with a GDP of £16,188 per head (or about €20,000) compared to $42,200 (or about €28,000) in the South? Were the Southerners - richer by 40% - magnanimous towards the windfall of their Northern brethren?
Were they hell! They were furious. The radio talk shows exploded with indignation. The newspapers fulminated in near-apoplexy. How dare people drive North for bargains, and deprive Southern shopkeepers of revenue and the Finance Minister of VAT receipts. Indeed, that very Minister and even the Tánaiste (deputy prime minister) declared shopping in Newry to be "unpatriotic".
I heard no-one suggest that Southern tradespeople need to push down their own costs to remain competitive.
Love-free Rivers
So are Irishmen and Irishwomen in the South the slightest bit interested in unifying with those in the North? Pshaw! In word only. In deed, never. Recent events, such as the two described, have illustrated an unacknowledged and awkward truth: there is no river of love flowing northward (doubtless nor southward either).
Gerard O'Neill of Turbulence Ahead has a different view: he thinks unification will happen possibly in the mid teens, but more likely in the 2020s.
A cowboy named Bud was overseeing his herd in a remote mountainous pasture in California when suddenly a brand-new BMW 7-Series advanced toward him out of a cloud of dust.
The driver, a young man in a Brioni suit, Gucci shoes, RayBan sunglasses and YSL tie, leaned out the window and asked the cowboy, "If I tell you exactly how many cows and calves you have in your herd, Will you give me a calf?"
Bud looks at the man, obviously a yuppie, then looks at his peacefully grazing herd and calmly answers, "Sure, Why not?"
The yuppie parks his car, whips out his Dell notebook computer, connects it to his Cingular RAZR V3 cell phone, and surfs to a NASA page on the Internet, where he calls up a GPS satellite to get an exact fix on his location which he then feeds to another NASA satellite that scans the area in an ultra-high-resolution photo.
The young man then opens the digital photo in Adobe Photoshop and exports it to an image processing facility in Hamburg, Germany.
Within seconds, he receives an email on his Palm Pilot that the image has been processed and the data stored. He then accesses an MS-SQL database through an ODBC-connected Excel spreadsheet with email on his Blackberry and, after a few minutes, receives a response.
Finally, he prints out a full-colour, 150-page report on his hi-tech, miniaturized HP LaserJet printer, turns to the cowboy and says, "You have exactly 1,586 cows and calves".
"That's right. Well, I guess you can take one of my calves", says Bud. He watches the young man select one of the animals and looks on with amusement as the young man stuffs it into the trunk of his car.
Then Bud says to the young man, "If I can tell you exactly what your business is, will you give me back my calf?"
The young man thinks about it for a second and then says, "Okay, why not?"
"You're a Democratic Congressman for the US Government," says Bud.
"Wow! That's correct," says the yuppie, "but how did you guess that?"
"No guessing required," answered the cowboy. "You showed up here even though nobody called you; you want to get paid for an answer I already knew, to a question I never asked. You used millions of dollars worth of equipment trying to show me how much smarter than me you are; and you don't know a thing about how working people make a living - or about cows, for that matter."
"Whadya mean?"
"This is a herd of sheep ....
"Now give me back my dog."
Hat tip: Barry O'Neill
Issue 204's Comments to Cyberspace
Four assorted comments this time.
Our Halal Trial
Comment to KFC on its trial of Halal menu options
Halal slaughter, and indeed the Kosher method it copies, are an unnecessarily cruel method of killing animals. It has no redeeming characteristics whatsoever ...

A United Ireland by 2016?
Comment to Turbulence Ahead blog
Advocates of a united Ireland should propose an all-UK referendum. No-one could doubt the outcome - an overwhelming vote to get rid of the pesky, money-draining place. As for the South ...

Ahern proposes Autumn referendum on blasphemy
Comment to Atheist Ireland
Ahern is a clown, as both his infantile blasphemy law, and his puerile reasoning for holding a blasphemy referendum, amply illustrate. He should have remained in his canoe.

Do you welcome the resumption of pay talks
between the Government and unions?
Comment in the Irish Times in response to a poll question
Ridiculous. Other than the unions themselves, for which it is their raison d'etre, no-one supports the industrial inaction of the public service, not even the vast majority of those employees themselves, and no-one has thought it remotely likely that the pay cuts would in fact be reversed. This was a battle that the government was well on course for winning and ...
- - - - C A N A D A - - - -
Quote: "We have a great respect for freedom of expression in Canada ... our domestic laws, both provincial and federal, delineate freedom of expression ... Canadian law puts reasonable limits on the freedom of expression. For example, promoting hatred against any identifiable group would not only be considered inappropriate, but could in fact lead to criminal charges"
François Houle, Provost of the University of Ottawa,
which is funded by Canadian taxpayers,
"welcomes" American award-winning and best-selling author
Anne Coulter to his campus to speak to conservative students.
Whether or not incited by M Houle,
Ms Coulter's talk was cancelled for her own safety
when 2,000 "students" (Houligans?) rampaged
outside the presentation hall at the University of Ottawa.
A day of shame for the university and for its miserable Provost,
who you would like to think will now be summarily fired.
- - - - - U S - - - - -
Quote: "We have to pass the bill so that you can find out what is in it, away from the fog of the controversy."
US Speaker Nancy Pelosi urges Democrats
to pass the 2,700-page Obamacare bill, sight-unseen
- which they obediently did, by 220 votes to 207.
This is much the basis on which
the EU's notorious Lisbon treaty was voted through,
which is probably a good reason it succeeded.
Quote: "To the extent that the [President's annual] State of the Union [address] has degenerated into the status of a political pep rally, I'm not sure why we [the Supreme Court judges] are there."
US Supreme Court Chief Justice John Roberts expresses disquiet
at President Obama's use of his 2010 SotU
to excoriate the Supreme Court
for a decision on campaign financing that he happens not to like.
Justice Roberts makes the point that protocol demands
that the judges in attendance sit there expressionless,
with opponents surrounding them "cheering and hollering".
This is a serious rebuke to the neophyte president.
- - - - - I S R A E L - - - - -
Quote: "The Palestinians and the nations of the Middle East will be rid of a bad omen once Israel is annihilated. Israel, a foreign presence and a Western prodigy in the region, has reached the end of its road."
Iran's "president" Mahmoud Ahmadinejad,
in a speech in the south of the country,
leaves no-one in any doubt of what his Israel policy is.
Now if only he had the means to carry it out
- a nuclear bomb with a rocket delivery system, perhaps.
- - - - G L O B A L W A R M I N G - - - - -
Quote: "There has been a very large, organized campaign to try to convince people that global warming is (oops, sorry) isn't real, to try to convince people that they shouldn't worry about it."
Good ole Al Gore, still on the global warm-mongering warpath,
still terrified of actually debating
with anyone from the "large, organized campaign".
It is interesting that global warm-mongers
are increasingly hijacking and inverting the deniers' arguments
and painting themselves, like Mr Gore does here, as victims.
Warm-mongers say that we deniers are
distorting the science,

deceiving our audience,

part of a huge conspiracy, and

kept afloat with unlimited funds from
shadowy sources.
But, hey, that's what we've long been saying about them!